WP1: Project Management
Main objective: To ensure that the project's main objectives are realized on schedule and within the budgetary limits and to ensure a quick and smooth communication and decision making process within the consortium and the EU Commission.

Work Package 1 is concerned with the overall technical, financial and administrative management of the consortium and the project's activities. As coordinator of the ViroLab, the UvA will be main responsible partner for this work package.
WP1 Leader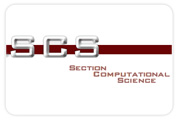 University of Amsterdam, The Netherlands

Project Coordinator: Prof. Peter Sloot
Project administrator: Dr. Isabelle Wartelle