Catholic University of Rome, Italy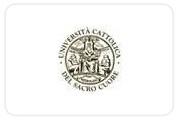 The Institute of Clinical Infectious Diseases of the Universita Cattolica del Sacro Cuore, is the fourth largest Infectious Diseases facility in Italy. The outpatient unit cares for 1,500 HIV-infected patients (1,250 on antiretroviral therapy during 2004).
More than 900 genotypic resistance assays have been performed by the end of 2004. Patient variables and results of genotypic resistance assays are stored electronically in dedicated MS-access-based relational databases, which can be easily linked using shared, encrypts patient's key codes.
Since 1999 it is actively engaged in the HIV drug resistance research field.

Catholic University of the Sacred Heart, Rome, Institute of Clinical Infectiuos Diseases
WWW: http://www.unicatt.it/ucsc_EV.asp