Eotvos Lorand University, ELTE, Hungary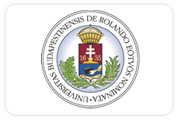 The ELTE Department of Plant Taxonomy and Ecology houses, for historical reasons, the largest theoretical biology group in Hungary. Viktor Müller, the person in charge of the proposed project at the group, has 10 years of international research experience in the field of mathematical modelling of HIV infection and has been collaborating with groups in the Netherlands, Switzerland and Germany.
The group participated in the successful FP5 project "Rational approaches towards understanding and overcoming HIV protease inhibitor resistance" under the NAS I Amendment Contract QLK2-CT-2001- 02360.